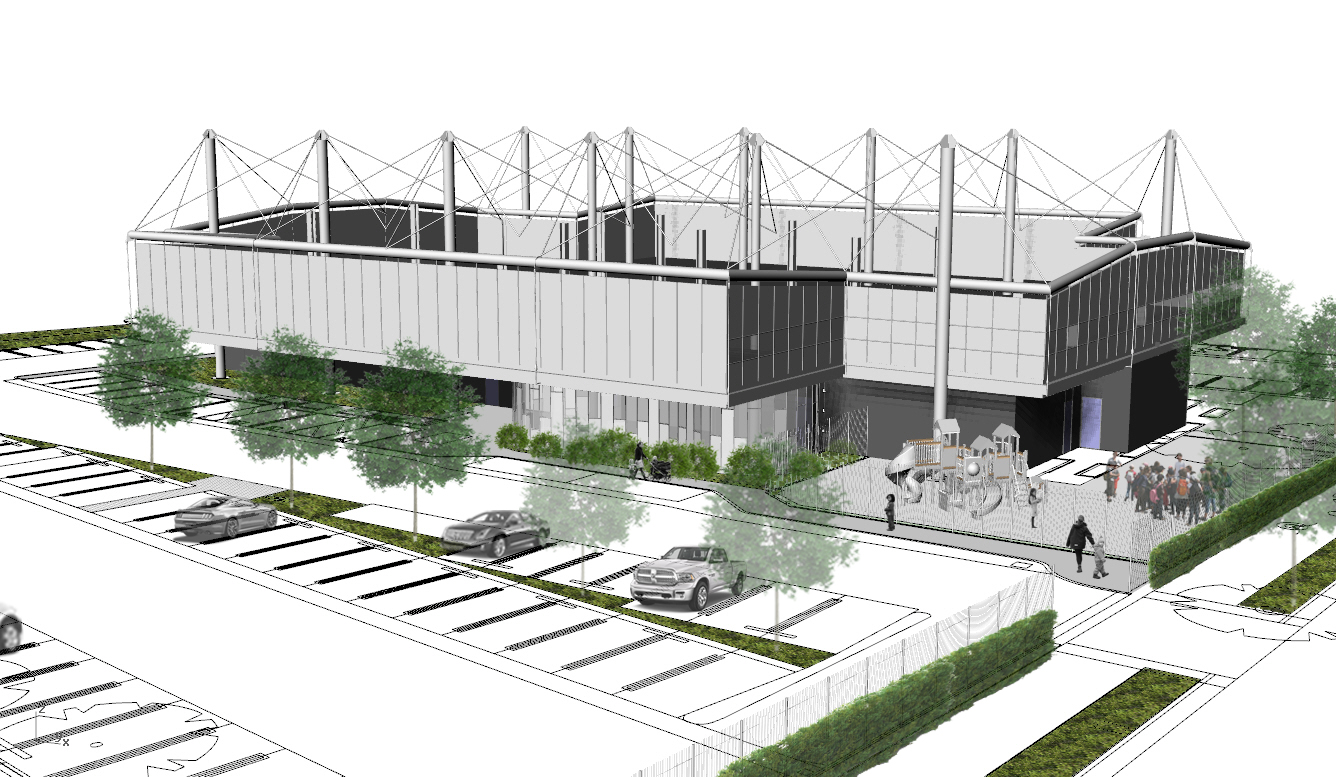 Client: Puente Learning Center
Project Size: 5,200 SF
Since 1985, Puente Learning has sought to enrich the neighborhoods of South and East Los Angeles by providing educational programs for both children and adults. While the Learning Center's primary focus is adult education—particularly English-language proficiency for Spanish speakers—it also offers an extensive range of programs for youth. Along with SAT prep courses for high school students and after school enrichment for children ages 7 and up, Puente operates a preschool and charter kindergarten.

In order to expand and update Puente's preschool and kindergarten programs, Berliner has been commissioned to design two new classrooms. These new rooms are additions to an existing 40,000 SF building designed by Stephen Woolley & Associates in 1995, which has received numerous awards and the praise of students and neighbors alike; rather than blending discreetly with the existing structure, Berliner's curvilinear, fully glazed additions will complement its original typology while simultaneously providing bright, contemporary learning spaces for the Learning Center's youngest students.
Client: Los Angeles Community Action Network - LACAN
Project Size: 5,400 SF
Los Angeles Community Action Network (LACAN) is a Homeless / Community outreach program that provides resources to the homeless in Downtown LA. Berliner Architects is working to redevelop their existing facility into a space that can house meetings, connections, and events for the homeless.
An important element of LACAN is their focus on Wellness, where they provide health services and teach classes on eating healthy. An aspect of this in the new LACAN facility is a roof top garden which provides the homeless with a space for urban farming in an otherwise food desert creating a new green oasis in the center of Skid Row and allowing for the homeless to grow their own food.
Client: Heart of Los Angeles (HOLA)
Project Size: 31,600 SF
Heart of Los Angeles (HOLA) is an educational program mainly focused on underprivileged youth musical training to better address the needs of our youth and their families. The new HOLA Facility in Lafayette Park will house the Youth Orchestra of Los Angeles (YOLA) with a new Ensemble Room Opening up to the park for public performances.
Built from modular containers the new HOLA building will include one large ensemble room, two small ensemble rooms, 18 classrooms, four smart start club rooms, and five offices.