Client: South Orange County Community College District
Project Size: 62 Acres
The Advanced Technology Education Park (ATEP) is a educational component of the Tustin Legacy Project, a large scale development with a mix of retail, commercial/business, residential and recreational uses located in Tustin, CA on the old Marine Corps Air Station site. ATEP will be lead by the South Orange County Community College District that includes Saddleback and Irvine Valley College. With nearby amenities such as the Tustin Metrolink Station and mixed used retail and entertainment venues, ATEP has the opportunity to become an innovative education park that changes the way students interact with their environment and prospective private business that will reside within the site. ATEP is seen as a node that involves a new method of innovation, where public and private ventures are juxtaposed to create a porous environment of thought and creation.
One of the challenges presented while establishing the design guidelines was how to create a porous site where the main circulation is not tied to one single walkway path, but to provide multiple vines that guide the user to different experiences within the site. We integrated different circulation paths to increase interaction on the campus between the start up businesses and the college students, this increased interaction will give students a modern day education, where they can directly interact with businesses providing a modern career-technical education.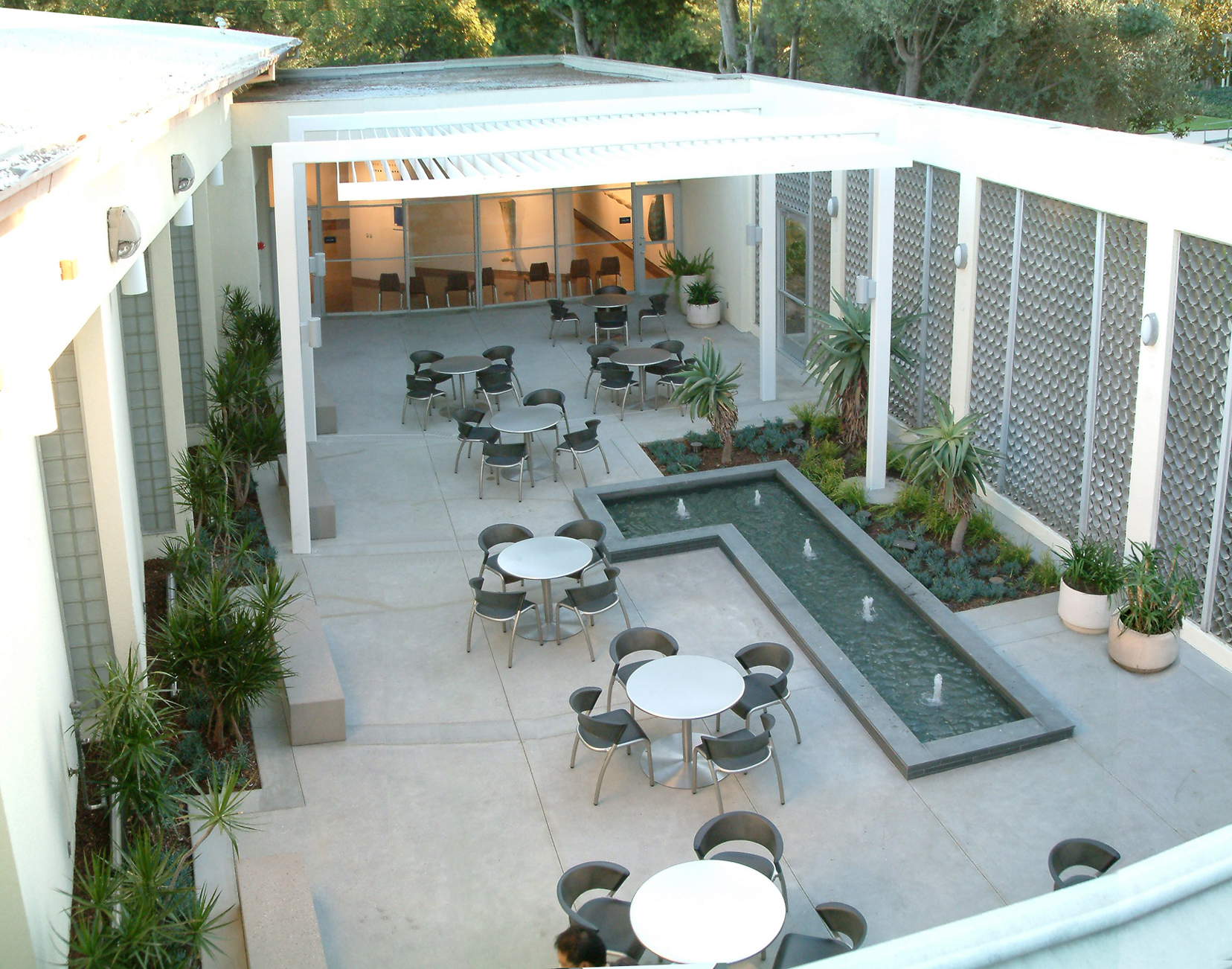 Client: Valley College (LACCD)
Project Size: 2,000 SF
Berliner Architects' renovation of the Arts Building Courtyard at Los Angeles Valley College has transformed a dreary and little-used space into an inviting amenity for the entire college community. The principal new feature is a graceful steel trellis designed to complement the mid-century modern character of the courtyard's architecture, providing shade and a sense of enclosure for the space.
The foundation pool, dry for years, has been restored, enhanced by new landscaping to create a cool oasis. New furnishings, selected for long-term durability and easy of maintenance have an urbane, elegant style which enhances their setting. Lighting has been upgraded, making the courtyard usable and inviting by night. the 2,000SF Arts Courtyard is able to serve many functions, from casual everyday student gatherings to formal evening receiptions for art shows.
Client: Los Angeles Community College District - Pierce College
Project Size: 273,000 SF
Pierce College embarked on a major expansion in the early 2000's that will continue until 2014. Berliner developed the Aesthetic Master Plan, which establishes a framework for new buildings, site improvements and landscape. Establishing a vocabulary for designers to work within allows the campus to develop in a cohesive way, where the campus is greater than the sum of its parts.
As a follow-up to the Master Plan, Berliner was selected to design the Campus-Wide Improvements for Pierce College, including a revitalized pedestrian mall and renovation of all exterior spaces in the campus core. Services also included wayfinding, pedestrian circulation and sustainability features.
Client: Los Angeles Community College District - East Los Angeles College
Project Size: 18.5 Acres
Firestone Educational Center is planned as a satellite campus of LACCD's East Los Angeles College, which will ultimately accommodate 12,000 students. The site comprises 18.5 acres, including more than 800,000 SF of existing manufacturing and warehouse buildings to be adaptively reused. The enormous scale of the buildings means that much of the "campus" will actually be indoors under vast, sky-lit roofs.
Berliner's Master Plan thoroughly analyzes and addresses the complex issues of the site, including preservation of historical architectural features, structural reinforcement of existing industrial buildings, pedestrian and vehicular circulation, new site access points, phasing, and a sustainable development strategy for the site and the buildings, with an anticipated minimum LEED Gold certification.
Client: Los Angeles Community College District - Valley College
Project Size: 105 Acres
Berliner completed the Campus Master Plan for Los Angeles Valley College, a 105-acre community college located in the heart of the San Fernando Valley. The Master Plan was part of Valley Community College's continuing expansion program that includes construction of eight new buildings and renovation of existing buildings and classrooms. The goals of this Aesthetic Master Plan are twofold:
First, to understand the character of the existing campus so its positive qualities are recognized and preserved; second, to develop a vocabulary for new building and landscape construction so that each project plays a positive role in creating a revitalized and unified Valley College campus.
Landscape and infrastructure projects are also part of the expansion program. Entries, quadrangles, and parking lots will be renovated and improved. The existing landscape character, which is dominated by lawn and mature trees, will be varied in order to make the landscape more useful and sustainable.
Client: The Aerospace Corporation
Project Size: 6,000 SF
The Visitor Center and Main Entrance will serve as the new public face and welcoming point for The Aerospace Corporation's headquarters in El Segundo, California. The Visitor Center will not only provide the main security point for the campus, but also will contain a conference room and exhibition space, which will feature artifacts and multi-media displays delineating the corporation's rich 50-year history.
Client: Los Angeles Unified School District (LAUSD) - Belvedere Middle School
Project Size: 12.1 Acres
Berliner worked with LAUSD to survey and verify conditions, deficiencies and needs to develop a campus Master Plan for Belvedere Middle School. Berliner's Master Plan addressed issues of concern at the campus, including the undersized cafeteria with inadequate outdoor covered seating, the amount of underutilized open spaces on campus, lack of ADA access to upper levels of the buildings and most significantly, a safety concern where pedestrians and vehicles cross paths in the heavily used central area of the campus. The Master Plan created a new, student-friendly open space with increased outdoor seating surrounding a new cafeteria/classroom building to replace the existing cafeteria. A new tower structure attaches to existing buildings to provide elevator access and additional needed restrooms to upper floors. And, in recognition of Belvedere's well-loved music and band programs, a new outdoor band shell is the centerpiece of the renewed central campus.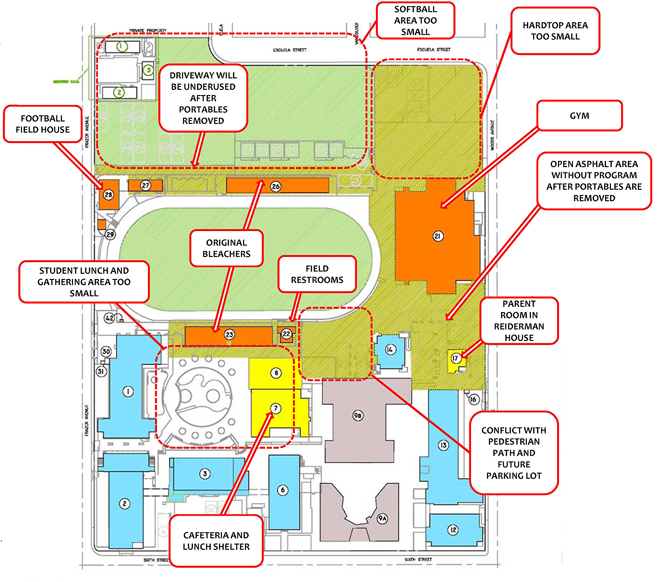 Client: Los Angeles Unified School District (LAUSD) - Garfield High School
Project Size: 19.5 Acres
Berliner worked with LAUSD to survey and verify conditions, deficiencies and needs to develop a campus Master Plan for Garfield High School. Berliner began the process by interviewing administration and staff to hear concerns and requirements. A site analysis was completed documenting building and land uses, facility conditions, circulation patterns, open spaces uses, underutilized areas and needed infrastructural improvements. One priority for the Garfield campus was replacing an outdated and undersized sports facility with new, expanded facilities including a gymnasium and baseball field. The Master Plan also proposed a new pedestrian mall to connect the separated sections of the campus and provide additional outdoor seating spaces throughout the campus.
Client: Knowledge Universe International Academy
Project Size: 20 Acres
Berliner designed a 20-acre campus for Knowledge University International Academy in Singapore. The 2,200-student K-12 campus consists of a primary school, middle school, high school, commons area, athletics complex, teaching training, underground parking and extensive outdoor athletics and learning spaces. The individual schools are based on the design concept developed at High Tech – Los Angeles to accommodate project-based learning and a focus on a visually open environment to foster a sense of community and team building. The campus will be developed utilizing the design principles of LEED for Schools with rooftop photovoltaics and green roofs, as well as many other sustainable design features.