Loyola Law School - Founders Hall Renovation
Project Size: 24,500 SF
Berliner Architects began working with Loyola Law School on the Founders Hall Renovation project with a series of programming exercises. Which included a classroom utilization study for the entire campus. The project includes Loyola Law School's administration, Student Affairs, Fiscal Affairs, Career Development, IT and Planning Departments.
The brick building from the 1950's is being renovated to reflect contemporary aesthetics of corporate offices, providing a professional environment which is also warm and inviting for students, faculty, and staff. The new interconnecting stairs, centrally located in the building, allow a more welcoming means of access for clients visiting the second floor. Slight angles are introduced intermittently in an otherwise orthogonal building as a nod to architect Frank Gehry's prolific influence on the campus.
Client: Loyola Marymount University
Project Size: 63,480 SF
For the existing Seaver Hall Building on the LMU Campus, Berliner Architects created a design brief where three different options of renovation and two new construction options were presented, studying various levels of renovation, from a basic ADA and Seismic upgrade to a full renovation and renewal of virtually every system and surface extending Seaver Hall's central role on the campus for many years to come. The complete renovation will dramatically enhance the exterior of the building by removing the masonry screens on the facade bringing natural light and views into the new classrooms and offices. Seismic strengthening of the building will bring it into compliance with the proposed LA City Seismic Retrofit Ordinance.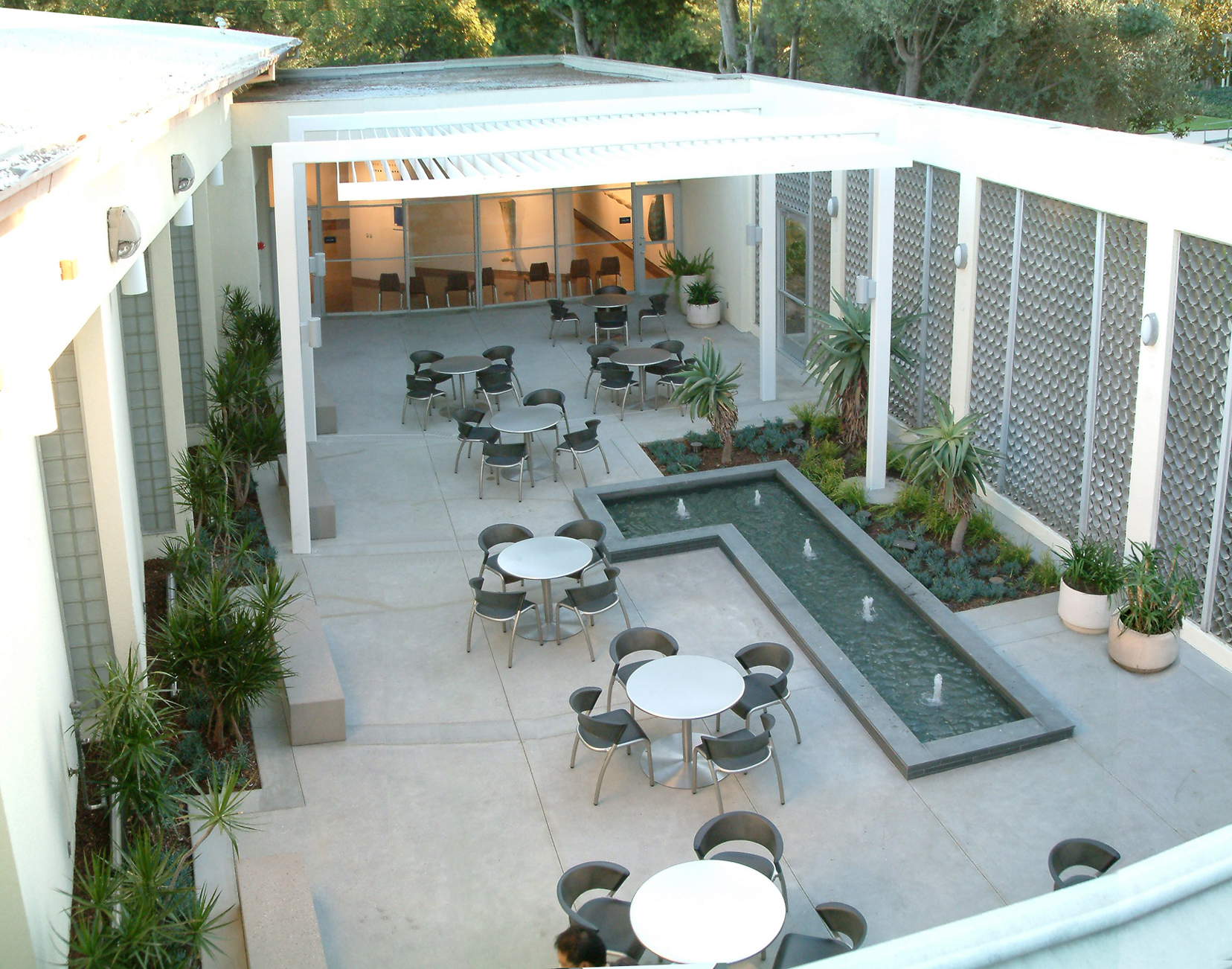 Client: Valley College (LACCD)
Project Size: 2,000 SF
Berliner Architects' renovation of the Arts Building Courtyard at Los Angeles Valley College has transformed a dreary and little-used space into an inviting amenity for the entire college community. The principal new feature is a graceful steel trellis designed to complement the mid-century modern character of the courtyard's architecture, providing shade and a sense of enclosure for the space.
The foundation pool, dry for years, has been restored, enhanced by new landscaping to create a cool oasis. New furnishings, selected for long-term durability and easy of maintenance have an urbane, elegant style which enhances their setting. Lighting has been upgraded, making the courtyard usable and inviting by night. the 2,000SF Arts Courtyard is able to serve many functions, from casual everyday student gatherings to formal evening receiptions for art shows.
Client: Harbor College (LACCD)
Project Size: 24,646 SF
Berliner Architects is serving as the Architect of Record on the Design-Build team for the modernization of the Old Administration Building on LACCD's Harbor College Campus. The renovation of this mid-century modern building includes updating all systems, incorporating high tech classrooms, and rebuilding the campus data center. The design creates a welcoming and cohesive building that will house both the Community Services Department and Information Technology Department. The renovated spaces will further promote the Departments' identities and visibility on campus and contribute to a successful learning environment.
Client: Valley College (LACCD)
Project Size: 105 Acres
Berliner completed the Campus Master Plan for Los Angeles Valley College, a 105-acre community college located in the heart of the San Fernando Valley. The Master Plan was part of Valley Community College's continuing expansion program that includes construction of eight new buildings and renovation of existing buildings and classrooms. The goals of this Aesthetic Master Plan are twofold: First, to understand the character of the existing campus so its positive qualities are recognized and preserved; second, to develop a vocabulary for new building and landscape construction so that each project plays a positive role in creating a revitalized and unified Valley College campus.
Landscape and infrastructure projects are also part of the expansion program. Entries, quadrangles, and parking lots will be renovated and improved. The existing landscape character, which is dominated by lawn and mature trees, will be varied in order to make the landscape more useful and sustainable.
Client: Firestone Educational Center at East Los Angeles College (LACCD)
Project Size: 18.5 Acres
Firestone Educational Center is planned as a satellite campus of LACCD's East Los Angeles College, which will ultimately accommodate 12,000 students. The site comprises 18.5 acres, including more than 800,000 SF of existing manufacturing and warehouse buildings to be adaptively reused. The enormous scale of the buildings means that much of the "campus" will actually be indoors under vast, sky-lit roofs.
Berliner's Master Plan thoroughly analyzes and addresses the complex issues of the site, including preservation of historical architectural features, structural reinforcement of existing industrial buildings, pedestrian and vehicular circulation, new site access points, phasing, and a sustainable development strategy for the site and the buildings, with an anticipated minimum LEED Gold certification.
Client: Pierce College (LACCD)
Project Size: 125,000 SF
The North of Mall Renovation (NOM) project encom­passes exterior and interior renovations on a total of 11 buildings, including nine academic buildings, the Administration Building and the Campus Center Building. The project aims to unify the buildings and make them more compatible with the Mediterranean style of the campus while maintaining a contemporary feel.
Interior renovations include new partitions, doors, windows, flooring, and ceilings throughout, new furniture and finishes, re­strooms, MEP upgrades as required, and ADA compliance for classrooms, lecture halls, labs and offices in the 11 buildings.
Exterior renovations and architectural enhancements include exterior windows and doors, column wraps, arcade paving, exterior lighting and site improvements such as walkways, landscap­ing and irrigation. Two site structures, a tower and a garden pavilion, were added..
Also included in the scope of work are IT enhancements through­out and sustainability features such as reduced energy and water usage, sustainable finishes and materials, and native and adapted-native landscape.
Client: Woodbury University
Project Size: 25,000 SF
Offices and classrooms of Woodbury University's prestigious School of Business were consolidated from their scattered locations into this new, state-of-the-art facility which includes 11,000 SF of classrooms, 600 SF of offices, and a 242-seat auditorium suitable for lectures, presentations, and special campus events. The signature space of the new facility is the glass-enclosed lobby, which has become a campus landmark, illuminated like a beacon at night.
From preliminary design to finished construction, the project was accomplished in a mere 18 months.